Generation 64 is a hardback coffee table book that tells the story of how the Commodore 64 influenced an entire generation of Swedish gamers in the 1980s.
This generation of gamers, demo sceners and crackers then went to earn huge success within the games and technology sectors – going to to form and work for household names such as King (Candy Crush Saga), Spotify (music streaming) and Digital Illusions (Battlefield) to name a few.
Their inspiration to get into their chosen industry? The Commodore 64.
Generation 64 will make you laugh, remember, ponder, and shake your head. No matter if you grew up in Sweden or not – It's for those who had a Commodore 64, and felt like a part of something bigger but did not know exactly what.
Order now!
Generation 64 can now be ordered and shipped worldwide from Bitmap Books. Each book comes with a free laptop sticker – and delivery within the UK is free. Finally, Generation 64 is out!
The book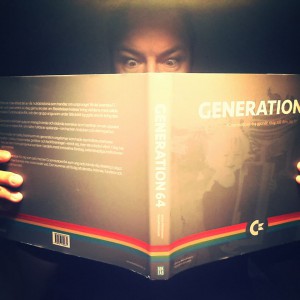 Originally released in Sweden in 2014, Generation 64 was met with critical acclaim natively in Sweden, and even throughout Europe. It attracted a large amount of press attention within Swedish media and also called for an English translation outside of Sweden.
Up until now, Generation 64 only existed in Swedish but this amazing story deserved to be told the world over. In July 2015, we therefore launched a  Kickstarter campaign to fund the English translation and printing of the book.
The finished book comes in hardback and be 213mm x 249mm and is 188 pages long. It's printed lithographically onto a high quality heavy uncoated paper for a luxurious feel. The book contains 50,000 words and is packed full of beautiful nostalgic imagery associated with the Commodore 64. The English  translation of Generation 64 also comes with a protective dust cover.
The design of the book is by Kenneth Grönwall and all text is written by book author Jimmy Wilhelmsson.
What's new in the English version?
A few content changes are made for the English version of Generation 64. These changes are mainly there to make certain aspects more relevant to non-Swedish audiences, and include adding in some more house-hold name interviewees and swapping them for ones than will be lesser known to non-Swedes.
The foreword is written by the founder of Digital Illusions aka DICE! The Father of the personal computer; Chuck Peddle then writes an introduction to the book talking about how he created the MOS Technology 6502 microprocessor family, or in other words – the brain of the Commodore 64 and other popular home computers.
Content
Spanning 188 pages, Generation 64 takes the reader on a story of how the Commodore 64 became so popular in Sweden during the 1980's. The book covers all aspects of this story, from the beginning in 1983 and how the C64 came to Sweden and how it exploded with popularity. Also covered are sections on games, the demo scene and crackers.
A huge part of the book is a series of interviews with prominent Swedish personalities. All the interviewees were influenced by the Commodore 64 and went on to do amazing things in their chosen career.
For example:
Karl Hörnell – games developer at Interceptor who cofounded PokerRoom.com, which was later sold for 450 million pounds.
Fredrik "Watcher" Liljegren – cofounder of the demo group, The Silents, and later games developer, DICE, creators of "Pinball Dreams", the "Battlefield" series, and coming "Star Wars: Battlefront".
Kim "Creeper" Nordström – graphic maker in Censor Design, part of the Sony team that built the PlayStation 4 – and now head of studio at King, creators of "Candy Crush Saga".
Oskar "Flamingo" Stål – former coder in Light and now Chief Technical Officer of the music streaming service, Spotify.
Martin Walfisz – founder of games developer Massive Entertainment, creators of "Ground Control" and coming "Tom Clancy's: The Division".
Tomas Danko – Sweden's most famous C64 musician – and nowadays, a very experienced lead sound engineer with titles like "Mirror's Edge", the "Battlefield" series, and "Killzone: Shadow Fall" on his résumé.
Lars Hård – cofounder of Greve Graphics, Sweden's very first games studio – with titles like "Blood and Guts" and "Soldier One". Today, successful entrepreneur in Silicon Valley.
Founders and prominent members of Swedish legendary demo and cracker groups, Fairlight and Triad.
The stories of notorious C64 sceners from Sweden; like Mr.Z, Strider, Ixion, Xerox, King Fisher, Mahoney, Bacchus, The Sarge, Gollum, and many more.
But Generation 64 is not just a book full of words – it is also packed full of nostalgic Commodore 64 imagery, some of it never shown before. This imagery ranges from game sprites and screenshots, photography from sceners and other historical events, game box art, and old advertising.
Book teasers